COLOVE First Look on Motion:Harmonic by Excite Audio
Recently, an interesting distortion and automation plugin called Motion:Harmonic was created by Excite Audio, an innovative company in the field of sound and design. This modern, young company releases quite fascinating products, constantly evolving and expanding their range of offerings for musicians worldwide, providing them with exciting solutions for sound manipulation. We truly appreciate something new and strive to unlock the potential of the products we admire. It is worth noting that Excite Audio creates beautifully designed plugins (products), blending sophistication, modernity, and simplicity. The high-quality sound processing and precise optimization algorithms deliver outstanding results, transforming your tracks. In our team of sound designers at COLOVE, we are exploring the capabilities of the new Motion:Harmonic plugin and planning to develop our own presets to further unleash the power of this distortion and filtering tool. Currently, we are studying the plugin and developing our unique approach to sound processing using this cutting-edge plugin.
Unleash Your Creativity with Motion: Harmonic by Excite Audio
Prepare to embark on a sonic journey like no other with Motion: Harmonic, a groundbreaking plugin developed by Excite Audio. This powerful tool combines distortion, filtering, and bitcrushing to offer a dynamic and immersive sound-shaping experience that will revolutionize your audio production.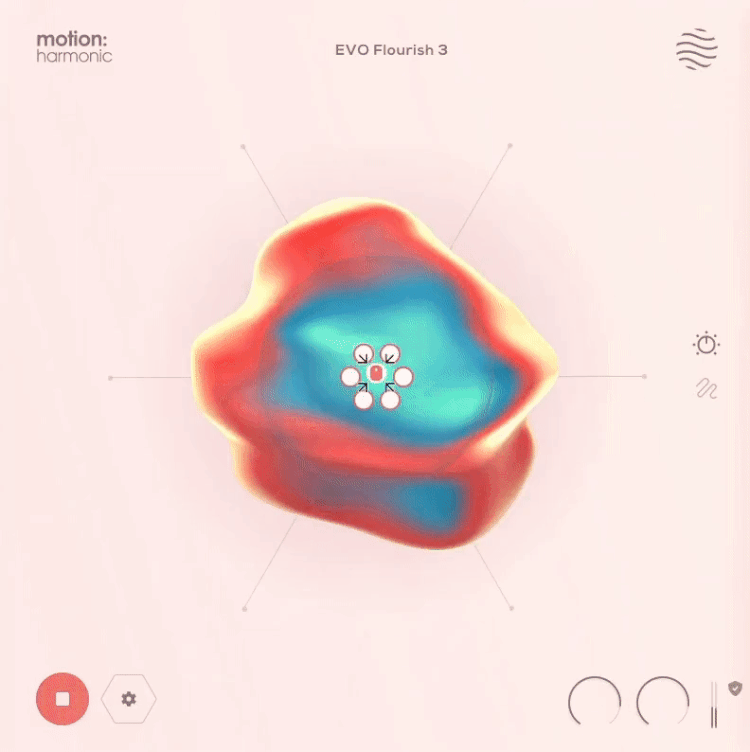 At the core of Motion: Harmonic lies the Hexagon controller, an innovative interface that invites you to explore and manipulate your sound in real-time. With its interactive and visually captivating design, this intuitive controller empowers you to push the boundaries of your audio creations. Whether you opt for precise mouse movements or intricate patterns, the Hexagon allows you to craft expressive and evolving soundscapes effortlessly.
Excite Audio has masterfully crafted the distortion section of Motion: Harmonic, offering a rich palette of sonic possibilities. From subtle warmth to intense saturation, the plugin provides precise control over drive, tone, and character. The Dynamic parameter adds an extra layer of responsiveness, allowing the distortion effect to adapt to the transients in your audio. Additionally, the Feedback control introduces resonant feedback loops, while the Mix control seamlessly blends the original signal with the distorted elements.
Bitcrushing enthusiasts will be delighted by Motion: Harmonic's ability to recreate the lo-fi charm of early digital systems. By manipulating the bit depth and sample rate, you can achieve authentic vintage degradation and gritty textures. The Dynamic control focuses the bitcrushing effect on transients, while the Lo and Hi sliders enable you to target specific frequency bands. The inclusion of pre-filters and the Mix control provides further flexibility, allowing you to strike the perfect balance between the original signal and the destructive bitcrushed elements.
Motion: Harmonic's filtering capabilities are equally impressive, offering a wide range of sonic sculpting tools. The high-pass and low-pass filters, under the control of the Hexagon, bring movement, character, and rhythmic textures to your audio. By modulating these filters, you can create undulating effects, sweeping motions, and precise frequency manipulations. The Peak Filter adds a touch of complexity, enabling you to replicate spectral resonance and unique phaser-like sounds. Customization options such as adjusting the number of peaks, frequency, and shape, as well as the Contrast and Invert switches, further enhance your creative possibilities.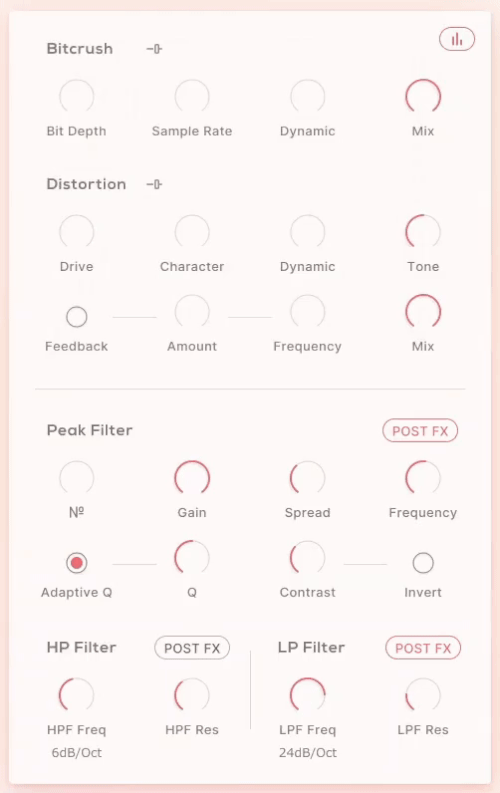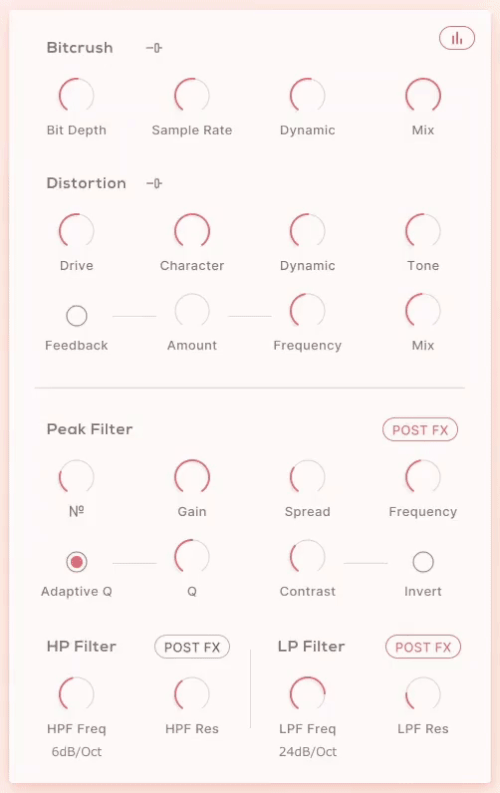 Visual feedback plays a crucial role in the Motion: Harmonic experience. The plugin features a reactive 3D visualizer that provides real-time insights into the effects of your settings on the wet signal. Switch between distortion and bitcrushing visualizers to observe the impact on your sound and make informed adjustments. Additionally, the peak filter and LP/HP visualizers offer valuable information about the frequency spectrum, allowing you to precisely shape and mold your audio.
Excite Audio's Motion: Harmonic is a must-have tool for producers, sound designers, and musicians seeking to unlock new dimensions of creativity. Its innovative Hexagon controller, versatile distortion and bitcrushing effects, and comprehensive filtering options make it a game-changer in the world of audio manipulation. Experience the power of Motion: Harmonic and elevate your sound to unprecedented heights.
Features
FX Page (4 effect sections: Bitcrush, Distortion, Peak Filter, LP/HP Filter)
Cursor, Path and Timeline Page
Reactive 3D Visualiser
6 Macro Sliders

Per Slider Parameter Mapping
Per Slider Parameter Min/Max Values
Audio Reactive Envelope

Magnetic Cursor control
Input/Output Gain controls
Safety Limiter toggle
Global Bypass
250 Presets

134 Dual Presets
85 FX & Mapping Presets
31 Path & Cursor Presets
Bitcrush
Bit Depth and Sample Rate reduction controls
Dynamic control
Hi-Lo Frequency Range slider
Dry/Wet Mix
Distortion
Drive and Character controls
Dynamic and Tone controls
Feedback Amount, Frequency, On/Off toggle
Hi-Lo Frequency Range slider
Dry/Wet Mix
Peak Filter
Peak Number, Gain, Spread and Frequency controls
Q with Adaptive Q toggle
Peak Contrast contrast and Invert toggle
HP/LP Filter
Filter Frequency and Resonance controls
Filter Slope dB/oct controls
Cursor & Hexagon
Attract & Repel modes
Magnet Range & Strength controls
Magnet On/Off Mouse settings
Slider Hold & Release controls
Paths
Record Cursor Mode
Line & Circle Draw modes
Path Drawing Tools:

Select Point/Curve Line
Add Point
Remove Point
Scale/Move Path
Timeline
Forward, Reverse, Pendulum Playback Direction
Loop Path toggle
Timeline Speed graph
Fixed/Free Timeline Duration
Timeline/Recorded Cursor Speed
On, Off, Sync Retrigger modes
DAW Sync or Free Timeline Duration
Time, Multiplier and Offset controls
➡️ For general full information about the capabilities and key features of this plugin, please visit the official company website at https://www.excite-audio.com/motionharmonic